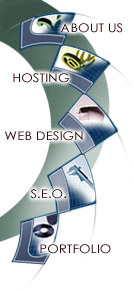 | | | |
| --- | --- | --- |
| | Custom Made Web Design | |

Having us on your web design team is like the difference between paying a kid to mow your lawn and hiring an experienced, professional landscape gardener who knows how to design a beautiful landscape, the differences between types of plants, and how your landscape will look and grow in the future.

In other words, we don't recommend something because that's the only thing we can do. You'll get a broader perspective and real website development based on what your company needs.
Marketing-oriented web design
As a team of marketing-oriented web design specialists — who also know how to build a website from the ground up to rank well in search engines — we specialize in designing marketing-oriented websites. With a wide variety of disciplines — in art, web design, graphic design, communication, marketing and sales, web technology and search engine know-how — and years of web design experience, we can design for you a website that: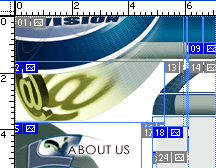 looks professional and represents your company well
is targeted to your customers
is unconfusing and easy to get around
contains the information it needs to contain
enables people to find what they're looking for
with images and text created not just to present, but to sell
has forms, shopping carts, databases where needed
downloads fast, and built to be search-engine friendly
promotion package for online visibility and exposure

Custom Web Design — focusing on your company

Your website is about your company. As part of your unique, custom-designed website, we can include factors designed to represent you well, increase visitor traffic to your website, and encourage sales once they're there:
professional-looking web design
Your website must look professional to represent you well and instill a feeling in your customers that "this is the right company" to do business with.
design pertinent to your company and industry
Your website's overall "look and feel" should be pertinent to your subject matter — it should "make sense" to your customers. It can also be based on brochures or other materials.
website development — what should your website include?
Designing a website and knowing what to include are two different things. Website development includes taking into account your company's goals and marketing strategies — as well as knowing how much to say and when to stop.
website usability — ease of use
Ever been to a website that you knew had what you wanted — but you couldn't find it? Or a website that was missing important data upon which to base a purchase? Or you just plain couldn't get the website to work? We take website usability seriously.
ad copy writing
There's a difference between presenting your products or services and writing ad copy. Ad copy should appeal to the potential customer.
marketing-based images
We'll create images — or use yours — to convey your products and services in a clear and appealing manner.
customer-friendliness and fast downloads
We work to anticipate what your customers need. We have knowledge of what makes web browsers "tick" and how to make web pages download fast.
search-engine friendly web design for visibility and traffic
Websites don't just "happen" to rank highly in search engines. The way a website is built — from the ground up — effects how it places in search engines. We'll use our years of knowhow to ensure your website isn't "invisible" on the Web.
search engine and directory submissions
How your submissions are written has everything to do with whether they're accepted. Once your website is complete, we'll write your submissions to Yahoo, Google and Netscape's Open Directory Project and Yandex, Rambler, Aport and other search engines.
Other
Need a database? Web hosting? Domain name? Logo? Order forms? Website redesign? These issues will be sorted out and we'll get what you need.
| | | |
| --- | --- | --- |
| | | |
| | | |
| --- | --- | --- |
| | | |
| | | |
| --- | --- | --- |
| | | |